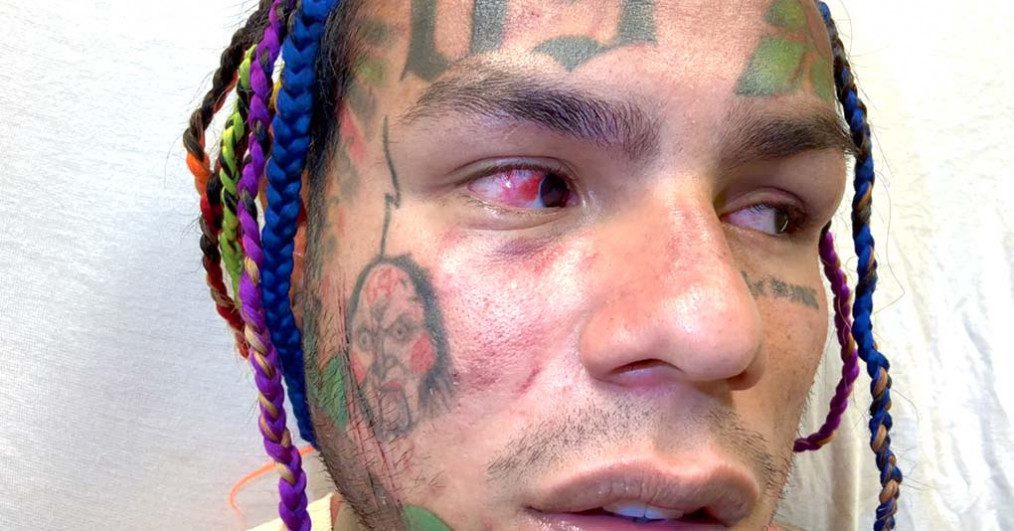 6ix9ine is speaking out following his brutal gym attack.
Just hours after the suspects were arrested, the rapper returned to Instagram to thank his supporters as he recovers from the brutal beatdown that occurred after three men jumped him inside an LA Fitness.
"HEY GUYS 🤕 IM BACK THANK YOU TO EVERYONE WHO CALLED AND REACHED OUT. I LOVE YOU GUYS FOREAL," he wrote alongside the hashtag #LAFITNESS.
https://www.instagram.com/reel/Cqd2Q5iL_JH/?ig_rid=0fb74b69-a215-43ef-9c62-29b219978aa8
He also shared a video for his new Spanish song "Bori" featuring Lenier Mesa, which was shot during his recent trip to Cuba.
With the Cuban flag draped across his back, he makes his way through town handing out cash to the locals. When he's not spreading the wealth, he finds time to take a dip in the river and cozy up to a mystery lady.
Tekashi also shares footage from the hospital and reveals the injuries he suffered from the ambush.
On Thursday, three men were arrested for assaulting and robbing the "Trollz" rapper inside a sauna at LA Fitness in Lake Worth Beach, Fla. on March 21. Rafael Medina, Jr., Octavious Medina, and Anthony Maldonado were booked into Palm Beach County Jail.
Police say that Medina, the oldest of the three men, is a documented Latin Kings gang member who held a high-ranking position within the gang. The Latin Kings are allies with the Nine Trey Gangsters, the gang that Tekashi testified against in court.
About Post Author