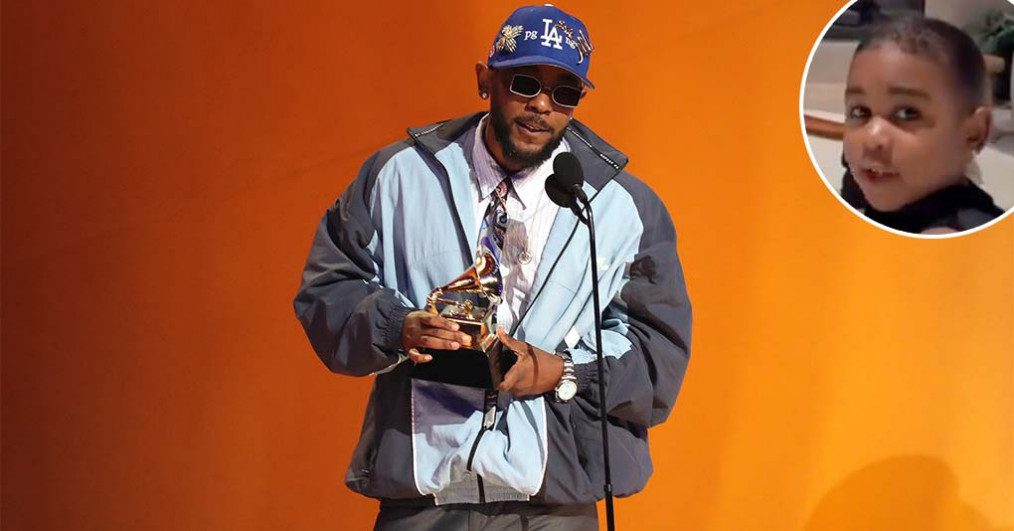 Kendrick Lamar's kids are proud of their dad.
The Compton rapper won three awards at Sunday's Grammys and his two children were at home cheering him on. Kendrick's wife, Whitney Alford, shared a heartwarming video on her Instagram Story of Kendrick accepting the award for Best Rap Album during the live telecast as his 3-year-old daughter Uzi looked on.
"First and foremost, I want to thank my family for giving me the courage and the vulnerability to share these stories and share my truth with this album," Kendrick said during his speech.
Uzi, who appeared to be dressed up for the occasion, reacted as "daddy" accepted the award. "They're talking about us!" she told her mom. "He's talking about his family, Uzi and Enoch and mommy."
Kendrick's son Enoch can also be seen in the background of the video.
Whitney congratulated her husband on his Grammys: "Congrats on 3 more @kendricklamar. We [love] and appreciate you!" she wrote.
Kendrick has kept his family out of the spotlight, but he did rap about his daughter on Mr. Morale & the Big Steppers. Both his children also appear on the album cover and Kendrick has an "Uzi" tattoo on his arm.
"My children allowed me, in their development as human beings beginning to walk and talk, to remove my ego, to know that my children, too, will have their own independence," he told W magazine.
Kendrick, who was the most-nominated male artist this year, won three awards at Sunday's ceremony including Best Rap Performance and Best Rap Song for "The Heart Part 5," bringing his career total to 17 Grammys.
About Post Author