Throughout hip hop some of the most iconic songs came from rap groups. LFMG members Arron "AR" Rice and Darryl "DP" Pointer are creating their own classic catalog as the new duo in the game.
Detroit, Michigan native, Russ, is the CEO of the record label, Best Hand Entertainment. On his roster of artists is the rap super duo, LFMG, who has been shaking things up in the industry. The group, comprising of artists, Arron "AR" Rice and Darryl "DP" Pointer compliment each other like yin and yang on any track. Together as LFMG, they have released their two latest bangers, "Better" and "Show and Prove," combining their signature melodic lyrical rap style.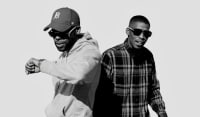 Arron "AR" Rice, the Detroit Michigan native always had a love for music, but it was not until his dad passed in 2000 that his music lessons from elementary and high school evolved into his rap career. Searching for an outlet to a better life for his family and young son, music became his way to a brighter future.
His hip hop partner, Darryl "DP" Pointer was born in Southside Chicago, Illinois. Like AR, a deep loss triggered his dedication to music. With the passing of his mother at 12 years old, DP along with his youngest brother were sent to Detroit, Michigan and placed in foster care. Circumstances led to him forming a rap group with other young rappers, but it was the crossing of paths with AR at age 22 that changed both of their lives.
From 2014, to present, they have been carving their way forward in the industry. Their amazing chemistry has given birth to dope tracks and their creativity is creating lots more to come. Follow and support their career as they make history together as one of rap's most talented duos.
"Better": https://open.spotify.com/album/4mfqt8Laa5lwidtDcBN5gy
"Show and Prove": https://open.spotify.com/album/6C6A7y4TwdCiRzJccPgxjN
LFMG Instagram: @Lfmg_elite
Best Hand Entertainment Instagram: @best_hand_entertainment
About Post Author