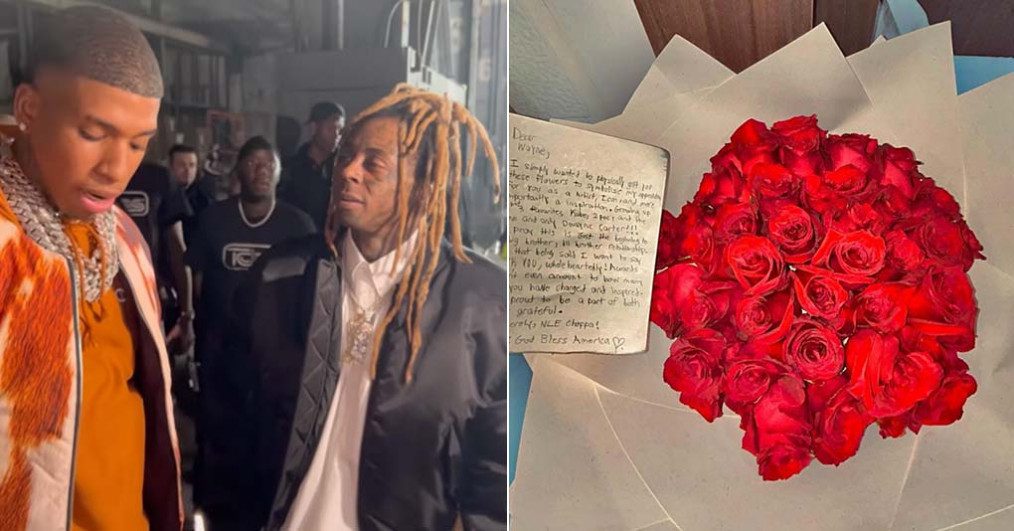 NLE Choppa is giving Lil Wayne his flowers, literally.
The Memphis rapper presented his idol with a bouquet of red roses on set of the video for their new collaboration "Ain't Gonna Answer." NLE shared video of himself handing Wayne the flowers along with a handwritten note.
"I just want to present my own accolade, physically giving you flowers and a note to let you know how much you inspire me," he told him.
"You a real person," said a grateful Wayne before telling the camera: "Be like this guy. He's a good guy, man, for real. I do this a lot… New artists, old artists. This doesn't happen."
In the handwritten note, Choppa also expressed his appreciation for Wayne. "Growing up, I had 3 favorites, Kobe, 2Pac, and the one and only Dwayne Carter!!! I pray this is just the beginning of a big brother, lil brother relationship," wrote Choppa, whose favorite Weezy song is "God Bless America."
"Awards couldn't even amount to how many lives you have changed and inspired. I am proud to be a part of both forever grateful," he added.
NLE's collaboration with the GOAT, "Ain't Gonna Answer," hits streaming services on Feb. 24.
https://www.instagram.com/p/Coqc0FdvcSE/?utm_source=ig_embed&ig_rid=dbbc1742-f100-438e-a61a-00b944a89510
The Young Money boss is also cooking up a new collaboration with his "Uproar" collaborator Swizz Beatz. He shared footage of himself and Swizz on set of what appears to be a music video.
Starting in April, Weezy will hit the road on his "Welcome to Tha Carter Tour," which kicks off in Minneapolis before making its way to Chicago, Toronto, New York, Atlanta, and Houston, wrapping on May 13 in Los Angeles.
https://www.instagram.com/p/Cosnn2ySOp5/?utm_source=ig_embed&ig_rid=83a3a277-5fab-42d6-a994-508e3ff62590
About Post Author