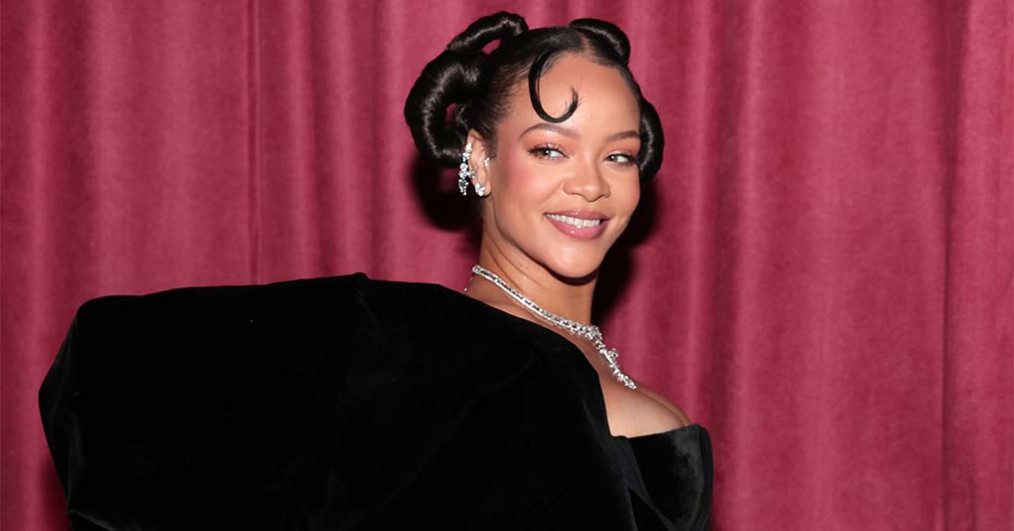 That Rihanna reign just won't let up.
Just days after slaying the Super Bowl, the icon graces the March 2023 cover of British Vogue with A$AP Rocky and their son in their first family photo shoot. In her interview with the magazine's editor-in-chief Edward Enninful, she opens up about motherhood and her long-awaited album.
During Sunday's halftime show, which was the second-most-watched in Super Bowl history, she revealed that she is pregnant with her second child, leaving fans to wonder if they will ever get a new album. It's been seven years since her last project, but Rihanna assures them that music is still coming, and she wants it to happen sooner than later.
"I want it to be this year," she reveals. "Like, honestly, it'd be ridiculous if it's not this year. But I just want to have fun. I just want to make music and make videos."
The Oscar nominee admits that she feel a "toxic" pressure to top her last album, Anti, which she considers her best work.
"But there's this pressure that I put on myself. That if it's not better than that then it is not even worth it," she says. "It is toxic. You're right. It's not the right way to look at music because music is an outlet and a space to create, and you can create whatever. It doesn't have to even be on any scale. It just has to be something that feels good. It could just be a song that I like. It literally could be that simple."
https://www.instagram.com/p/CosM8iwrEp9/?utm_source=ig_embed&ig_rid=d0eb2760-827b-47cc-805e-201f75d22d4f
She reflects on her 2016 album. "When you come off of an album like Anti… In hindsight, it really is my most brilliant album," she says. "I say that because in the moment, I didn't realise it. But it always felt like the most cohesive album I've ever made. When you break it down and you realise this album goes from 'Work' to 'Kiss It Better' to 'Needed Me' to 'Love on the Brain' to 'Sex with Me' to 'Desperado'.' And somehow it all fits and not for a second did you glitch?"
Rihanna has never stopped recording, but over time, she has fallen in and out of love with the music. She says listening back to an unreleased song is "almost like trying to dress like you used to dress. It's like, 'Ew, no. I would never wear those again.' Your taste changes, your vibe changes."
"So I realised that if I keep waiting until this feels right and perfect and better, maybe it's going to keep taking forever and maybe it'll never come out and no, I'm not down to that," she adds. "So I want to play. And by play, I mean I have my ideas in my head, but I can't say them out loud yet."
https://www.instagram.com/p/CosOov4NmDK/?utm_source=ig_embed&ig_rid=9f00b0e9-3d7b-40a3-ae14-fac400bb1dac
Elsewhere, she opens up about her new life as a mom. "Oh, my God, it's legendary," she says. "It's everything. You really don't remember life before, that's the craziest thing ever. You literally try to remember it – and there are photos of my life before – but the feeling, the desires, the things that you enjoy, everything, you just don't identify with it because you don't even allow yourself mentally to get that far, because it doesn't matter."
She also reveals why she decided to do the Super Bowl after turning down the NFL's previous offer to perform in solidarity with Colin Kaepernick.
"There's still a lot of mending to be done in my eyes," she says, "but it's powerful to break those doors, and have representation at such a high, high level and a consistent level."
She notes last year's headliners, Dr. Dre, Snoop Dogg, Eminem, Mary J. Blige, and Kendrick Lamar. "Two Super Bowls back-to-back," she says, "you know, representing the urban community, globally. It is powerful. It sends a really strong message."
Motherhood also shaped her decision. "Of course, raising a young Black man is one of the scariest responsibilities in life," she says. "You're like, 'What am I leaving my kids to? This is the planet they're gonna be living on?' All of those things really start to hit differently."
About Post Author