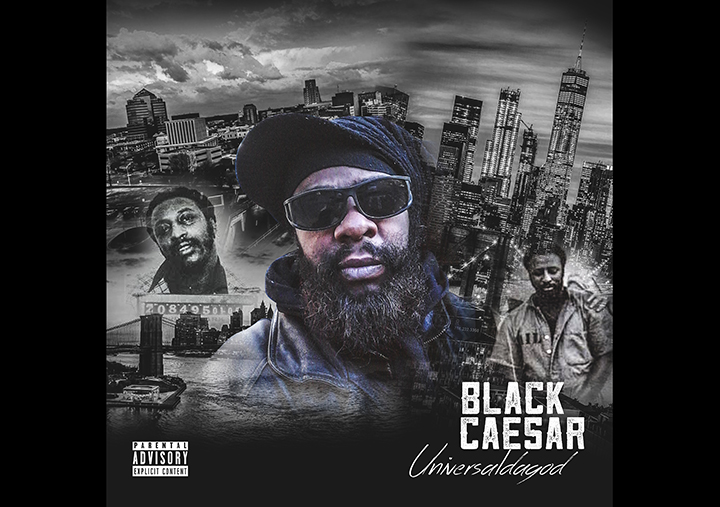 Fighting through death of loved ones, chronic illness, and incarceration, UNIVERSALDAGOD has risen above and pours his story in new album "Black Caesar."
Native to Durham, NC, George Baker also known as UNIVERSALDAGOD was raised in New York by his family that instilled NY values into his mentality. UNIVERSALDAGOD was taking over the 90's hip-hop scene before his record deal with RCA fell through because of his incarceration. UNIVERSALDAGOD has since continued to perfect his craft and genius behind the mic. With musical influences like Biggie Smalls, Tupac, Wu Tang Clan, The East Coast, JCOLE, RAPSODY, NINTH WONDER, and DA BABY, UNIVERSALDAGOD has elevated his flow and grind and is ready to speak to the underground through his upcoming album "Black Caesar." The new project is scheduled for release on all streaming platforms on his youngest living brother's birthday, February 24th, 2021.
"Black Caesar" is a culmination of UNIVERSALDAGOD's experiences, his hardships, and his life. Inspired by his father's friend, Frank Matthews, considered the biggest drug kingpin in the United States, UNIVERSALDAGOD relates to his life through things they've both lived through as gangsters in the same streets. "Black Caesar" revolves around true events, painting vivid realistic stories based on UNIVERSALDAGOD's path that led him to where he is. The album puts UNIVERSALDAGOD's producing and lyrical talents on display. Having wrote and produced his album in entirety, UNIVERSALDAGOD is making a statement of his versatility amongst others in the industry. He uses his voice to send a message to those counted out and enduring life's rough waters. "Black Caesar" channels UNIVERSALDAGOD's pain to touch those needing a voice through the darkness, a beacon of hope to uplift their spirits to do better for themselves and those they hold dear. "Black Caesar" is UNIVERSALDAGOD's way of trying to bring change to the streets by ending the senseless killing and instead unite and feed the hungry and free the oppressed.
UNIVERSALDAGOD is back and better than ever, and it is evident on his upcoming album "Black Caesar." His depth of lyricism has been cemented on platforms like "Bars I-95" and Smack's "url" battle rap and he is about to extend his legendary status with "Black Caesar." Follow his online accounts and stream his music while awaiting the release of his upcoming album "Black Caesar."
Instagram: https://www.instagram.com/therealuniversaldagod/
Twitter: https://twitter.com/UniversalDaGod
SoundCloud: https://soundcloud.com/universaldagod/monalisa/s-fLgfP7c2TZR
Website: https://www.universaldagod.com
About Post Author