ARN: Where are you from?
HIT: I was born and raised in Long Beach, California on the Eastside.
ARN: What's the best advice you ever received?
HIT: The best advice I ever received came from a rapper named AMG well known for his song bitch better have my money he told me what's the use of doing all of theses songs and keeping them in your pocket You have to let the world hear it and you also have to have a Story.
ARN: Talk me through your creative process.
HIT: Music can come real natural to me so when I hear a beep I instantly have a melody my best investment was buying a studio for the house so I can lay my ideas down immediately and won't lose the vibe or the feeling if I'm not around the studio I will take out my iPhone and use the recorder and Hum the Melody later on I'll put words to it and that's how my songs are created.
ARN: What is still your biggest challenge?
HIT: My biggest challenge is understanding balance trying to compartmentalize my time rather it's music' fashion' family time or being on the road it feels like something will suffer and It Will have a overwhelming effect on me later.
ARN: What's your best advice for handling criticism?
HIT: The best way to handle criticism is to understand that people are going to doubt you it's just part of your growth as an artist it all depends on what you do with that criticism I am a back against the wall type of guy there's beauty in the fail I like a challenge so to me it just motivates me good or bad criticism I never want to stop growing or learning.
ARN: What's your latest release?
HIT: My latest release is called beautiful War on the cover you will see my guardian angel with two guns behind her back coming to kill me LOL I guess she's tired of looking after me while I keep getting in reckless relationships and bad situations so she had enough the album is called beautiful war because I feel that I'm at war with the things I love the most family relationships Friends I'm even at war with myself sometimes.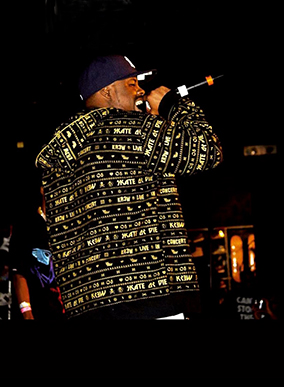 ARN: Who do people say you sound like?
HIT: My sound is very indescribable because I can do so many things you can really hear an street record and then turn around and hear a full R&B song are used to get comparisons to JAY-Z a lot and when I ask people why they would say it's not the voice is more of the confidence the arrogance I remember being in the studio with Pharrell Williams of the Neptunes he asked to hear a track so we played one After the song was over he said man you sound like Jay Z if he walk in the studio right now he would say when did I do that? I didn't know rather it was a compliment or an insult.
ARN: If you could only listen to 3 albums for the rest of your life, what would they be?
HIT: If I only had three albums that's a hard one I would say Definitely Michael Jackson's thriller OutKast ATLiens And Frank Ocean Channel Orange and Rick Ross Teflon Don.
ARN: What are you focusing your time on now?
HIT: Now that the album is done I mean heavy Grind mode getting ready to shoot videos photo shoots couple corona tours lol With my mask on like everyday is Halloween Also working on my new clothing line Ruined MNDS that set to launch in October So I am blessed and fortunate to do the things that I love.
ARN: Do you have a bucket list? If so what's on it?
HIT: What's on my bucket list interesting question I feel like I have done everything but I know I have not I would say sky diving I am afraid of heights maybe that will cure it I would like to write a movie a couple movies and to also learn two different languages.
ARN: Who influenced you most through out your career?
HIT: I would definitely say my fans and the people that support me I may not have a big fan base right now but the supporters that I do have right now are very loyal and I feel like with each project we grow together and that's inspiring to me.