Overcoming hell to reach for his dreams, Mike Coner releases the deep, multidimensional EP, "Destino o Casualidad."
Colombian-born, Maikel Rincon aka Mike Coner is only 18 years old, yet making an impact in the industry with talent comparable to music's elite. Versatile across musical genres blending hip-hop, reggaeton, and dancehall, Mike Coner is the next chapter in Urban Latin's legacy.
Having endured the darkest moments life can offer, his saving grace came in the words of his now producer, "Cree en tus sueños" (Believe in your dreams). At that moment, family dysfunction, homelessness, abandonment, heartbreak – they all turned from his weakness into his strength. Mike Coner pulled himself from the abyss, taking hold of his dreams and breathing hope back into his destiny. His experiences weren't by chance, but a necessity to fuel the depth and authenticity in his music that the world has come to love.
His first EP, "Destino o Casualidad" (Destiny or Chance), is an expression of his emotions and deepest thoughts. Fans will soon receive visuals on par with the prestige of the project for the song, "Quedate" (Stay) on September 30th among other notable releases like "Esperanza" and "Pienso" after its release.
Today we had an exclusive chance to interview the artist:
What is your stage name and how did you come up with it?
You know, my real name is Maikel Rincón. Mike Coner's name was born at school, in an English class. I was very young at this time, and I had to give a presentation in English (my native language is Spanish). I then thought that I would start my presentation by saying my name in English to make a good impression. So, Maikel became Mike, and Rincón became Coner… The problem is that I mispronounced my name, because "rincón" in English means "corner". The "R" had disappeared, but Mike Coner was born. However, it will be a long time before it reappears
Years later, I was part of a group of rappers and my nickname was Matricop, a kind of mix between Matrix and Robocop, two movies that I really liked, haha! Sometimes we have funny ideas, and you can imagine all the jokes my friends made about that name… One day before going on stage, I was asked to say my nickname, and I took the opportunity to change of stage name. But I didn't know what to say, and I think I was just as stressed as when I was a kid before I started my presentation. Maybe that's why Mike Coner forced himself on me at that time. Whatever, Mike Coner was truly born.
How would you describe the music that you typically create?
My sound as a mix of hip-hop, reggaeton and dancehall, that's to say Urban Latin.
My songs evoke stories from my personal life where I reveal my deepest feelings. They are stories of the streets, of grief, hope, faith, sadness, loneliness, of love too. Quite simply, the stories of a boy who dreams…
It's always a bit difficult to talk about our own music, but the best compliment I've been given is when people told me that I had a different style, more intimate and deeper, far from conventional stereotypes and that I presented a closer and more authentic image.

Do you remember the first rhyme you wrote?
Sure! The first time I wrote a rhyme was at school, for a girl that I liked so much. I didn't know what to do to get her to notice me. I thought I could give her candies, but others had the same idea before me. I could have gotten her a line from a movie, but you know my cinematographic tastes… And I'm not sure that line from Robocop would have been good: "Come Quietly, Or There Will Be". So, I wrote her a letter and it said: "Te quiero ver otra vez. Besarte otra vez. Acariciarte otra vez. Estar contigo otra vez. Te quiero ver otra vez". (I want to see you again. Kiss you again. Caress you again. Be with you again. I want to see you again). She became my girlfriend, my first girlfriend, and the greatest love of my life!

Where and how do you work best?
I like to work relaxed, and that's probably why I spend so much time in the shower. I sometimes spend over two hours singing while bathing. It's as if it allowed me to focus on myself. My manager often tells me as a joke that one day I should install a studio in my bathroom, so I can save time…
I don't like to work under pressure. Indeed, I like to take the time to let things come to me, to let go of them, to pick them up later. Sometimes, it's true, it's a problem. And I think my producer remembers the time I had to record a new song that wasn't ready. In fact, the day before it hadn't even been written, I must have had the title and a vague idea of ​​what would follow. But the more stressed of the two was him.

Have you heard the theory that some musicians write their best music while they're depressed or going through a bad time?
If you want my opinion, this is not a theory, but a reality. I think the emotion is so strong when we are going badly that we no longer have any barriers. There's nothing left but the pain, the pain. It takes up all the space, it overflows, and it explodes in the form of songs.
And really, my most beautiful songs were written while crying in my bathroom, following heartbreaks. I mentioned earlier the girl who was my first love. Life has certainly separated us, but it has reunited us years later. A while back, we reunited on social media and picked up our romance where we left off. But it wasn't easy and if I went through great moments of happiness, I also went through very difficult moments. And paradoxically, it was them, and not those during which I was happy, who allowed me to write my most beautiful songs.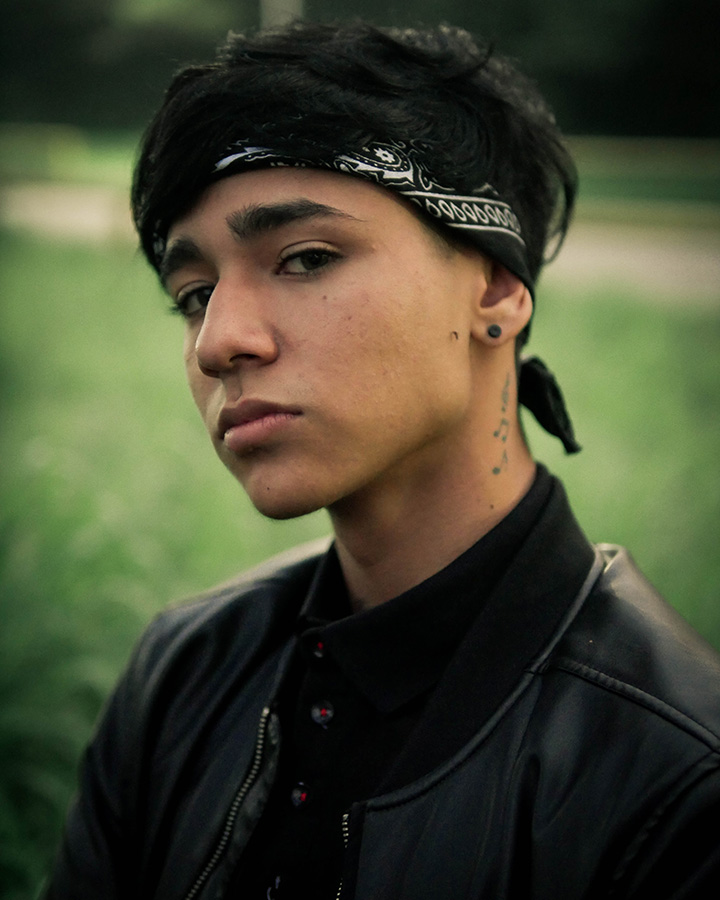 What's the best advice you ever received?
A while ago, nothing was right in my life. Very difficult things have happened to me. I was alone, abandoned, without family, without friends. All I had left was my dream of music, a dream which however seemed less and less accessible to me. And a person said to me: "Cree en tus sueños" (Believe in your dreams). That's what I did, and I got out of this difficult patch keeping one goal in mind, that of believing in my music. And when I happen to go through difficult times, I think back to this sentence. And you know what? The one who said this sentence to me is the one who became my producer.

What would you have done differently if you knew then what you know now?
As I just mentioned, the worst moment of my life was when I found myself on the street following due to family difficulties. However, I wouldn't change anything because I believe that everything happens for a reason, that everyone we meet on our path is there for a reason, that everything that happens to us is an experience that we must live. You know, if my first album is called Destino o Casualidad (Destiny or Chance), it's not for nothing. My favorite singer, Micro TDH, who's currently doing a major tour in your country, said to me one day: "Nothing in life happens by chance if not for things of destiny".
Going through the difficult times of my life, I learned a lot while gaining maturity, courage, humility too. I learned that nothing is impossible if we are consistent in what we want, and we must do what comes from our heart. We have to be who we really are and not what others want us to be. I also learned that there's no misfortune that doesn't last a thousand years and that after the difficulties and the sacrifices comes the reward.
You are very present on social networks, do you use them for your music?
Of course. On my YouTube channel, there are video clips of my songs for example. But above all, social networks allow me to be in contact with my followers, to talk with them, to have their opinion on my songs. Also, I can try out songs, see if they like them. And then, there are the live ones on Instagram or TikTok, I can do sort of small concerts for my fans and have their reactions live. I love this!
If you could only listen to 3 albums for the rest of your life, what would they be?
Difficult question… As there would be so many possibilities! But I would say: The Collection by Ne-Yo, Inefable by Micro TDH and Look At Me by Shiloh Dynasty.
First of all, Ne-Yo because he's my mother's favorite singer. When I was a child, my mother listened to him all the time while dancing. And of course, I imitated her. In my family, there's a legend that I knew how to sing Ne-Yo songs before I could speak, haha!
Then Micro TDH because he's my idol. My dream is to sing with him on stage one day. I was able to talk to him and sing him one of my songs during a Live on TikTok and I promised him that one day I will not sing for him but with him!
Finally, Shiloh Dynasty. What's impressive about Shiloh is that Shiloh started from nothing. Only by sharing music on Vine. Shiloh represents the courage and the hope of being able to change our life, to realize our dreams. I told myself that I too could do this, get out of my difficult life and fight for my dreams.
And to end this interview, one last question. What's your latest release?
Last July, my first EP called Destino o Casualidad was released. The clip of one of the songs from this EP, "Quedate" (Stay), will be released on YouTube next Friday, September 30.
Another song made with a friend of mine will be released soon, "Esperanza" which talks about the hopes of my generation. I have other singles coming. Songs that speak of love, heartbreak of course, like "Pienso" coming out soon!
And maybe one day a trip to the United States… It's another one of my dreams.
---
Spotify
https://open.spotify.com/artist/12oJgRl8958MQ1L1otkr4F
Youtube
https://www.youtube.com/channel/UC1tshU2Y2JJpzzxWGUo1kjA/videos
Official Website
https://mikeconer.bandzoogle.com
About Post Author